I love Las Vegas. As a city girl, I think this one is the ultimate:  24 hour everything, tons of entertainment, incredible shopping, amazing hotels… The city of sin is unlike any other.
Getting married in Vegas could be awesome! But what if you can't make the trip down south for your nuptials?  Maybe it will blow your budget or maybe an important family member is unable to travel.  Maybe you're a gay couple and the state of Nevada just isn't there yet… If it's your dream to have a Vegas themed wedding, then we say let's make it happen!  Here are some ideas we've come up with to bring Vegas to Vancouver.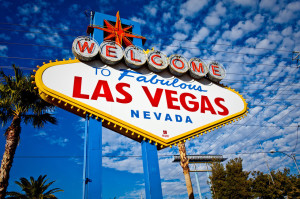 -Get a photo booth backdrop made of the famous "Welcome to Fabulous Las Vegas" sign.
-Instead of table numbers, use different hotel names from the strip. It would also be fun to change the different themes on the tables to match the hotels theme and colours.
-Give your guests chocolate casino chips as favours.
-Hire a company to set up some tables games for guests to play cards throughout the night.  Real money is not at stake here, but it could be fun to have prizes for the winners.
-Have entertainment! There are plenty of Elvis impersonators around!
-Have invitations made to look like plane tickets, and RSVP's in the style of luggage tags.
These are just a few ideas, the possibilities are endless! Having a Vegas themed wedding would be a very unique experience for you and your guests and would definitely leave a lasting impression.
xo Cristie